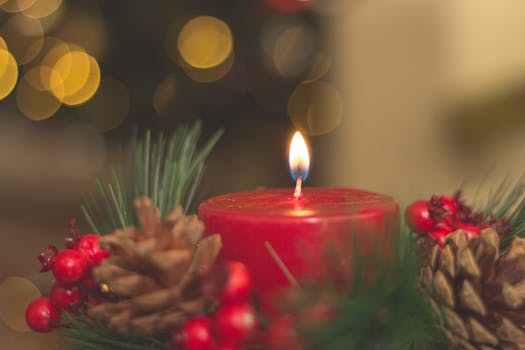 In the sixties, Patricia McGerr published a short story entitled "Johnny Lingo's Eight Cow Wife." Yesterday, when it came to mind, I thought I'd have to spend days digging in internet archives for it, but I was mistaken. You can still easily find this tale about the transforming power of love. In the story, a young man offers to pay eight cows for the plain, dejected, Polynesian girl he loves. Her father is elated— he thought he'd be lucky to get one cow for her. The neighbors think the suitor is a sucker. The girl. . .well, that's telling.
We all do crazy things for love. Yesterday, I sat hunched in front of a computer screen for hours looking for Greek and Roman toy soldiers. The reason? I wanted to give a grandson something special for Christmas.  We all strive to give those we love satisfying and suitable gifts. Time and money are of little matter—extravagance is in the nature of the lover.
We light the second Advent candle in memory of God's unequaled extravagance. He clothed the second person of the trinity in baby flesh and gave him to humanity. It was a satisfying gift because it met the need; a suitable gift because we could identify with it, and an extravagant gift because it cost God everything. Was this Bethlehem baby a crazy gift? In no way. For to those who receive him, he gives eternal life.
Most of the time, we take this gift for granted. We forget our former situation and the colossal chasm of sin that separated us from our creator. We've become so used to the story that we lose sight of  its consequences— that the chasm between us is closed, and the way is clear. We miss the glorious significance of it — those of us who believe are sons and daughters who have a hope and a future.
Johnny Lingo paid an exorbitant price for his wife, and then took her away from those who devalued her. He gave her a new life on a new island, and— surprise! She became beautiful. A curious visitor acknowledged that Sarita was stunning, but asked Johnny why he'd paid so much for her when she was still homely and unloved. Johnny's reply? "Because I wanted an eight cow wife."
McGerr's story is fiction, but it reveals the truth about love. Love does what nothing else can; it rescues and then beautifies. That is what God did; what he is doing; and what he will do.
Eye has not seen, nor ear heard,
Nor have entered into the heart of man
The things which God has prepared for those who love Him." (1 Corinthians 2:9)